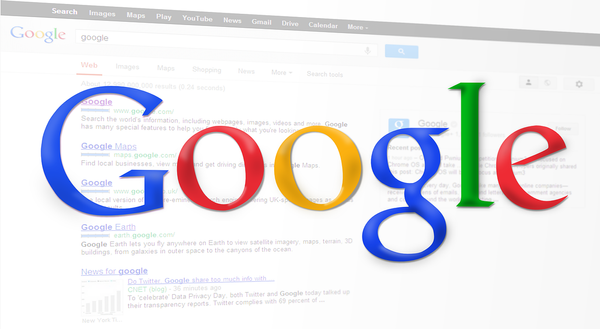 By: Pat Watters 
Published: March 2, 2017
When you search for something in Google, do you ever wonder why you receive the search results you receive? It's probably by design. Search engine optimization (SEO) is the name given to a collection of steps you can take to help the content on your website show up when people search for certain terms in Google and other search engines. Most of the world doesn't realize this is even a thing. But knowing how to optimize your band's website for search can give you a strong competitive advantage in your local music market. 
Here are a few tips to help you SEO your band's website, and improve your probability showing up in more Google (and other search engine) results. 
1. Figure Out What People are Searching For 
Did you know there are tools out there that can help you learn how many people are searching for specific phrases (called keywords)? The king of the ring in keyword explorers is
Moz.com
. A subscription to Moz isn't cheap (it starts at $79/month), but that's because it's worth it. The cool part is that the
Moz Keyword Explorer
tool lets you search for 2 keywords per day free of charge without a subscription. If you dedicate yourself to using this tool on a daily basis, you could literally do research on 120+ keywords in a two-month time period.  They also offer a free 30-day trial. 
Another option is Google AdWords'
Keyword Planner Tool
. This tool will give you search volume data and tell you how much competition exists for a particular keyword. But it's also valuable to note that this tool is intended for people who are purchasing pay-per-click advertising with Google. So it isn't exactly representative of SEO competition. 
2. Develop a Target List of Keywords 
Using whatever tool you decide on, you should develop a spreadsheet of the keywords you want to target. Using the tools, try to figure out the demand for phrases that matter to you like "rock bands in Phoenix" or "Michigan country singers". Your spreadsheet should capture the keywords you want to target, the search volume for the keyword, and a measure of the competition for that keyword. When you finish, sort the keyword list. The goal is to prioritize keywords with a high number of monthly searches and a low amount of competition. 

Dig what you're reading? Subscribe to be among the first to find out when a new story goes live.
3. Develop and Implement a Keyword Plan for Each Page 
Now that you have a list of target keywords, make another spreadsheet (look at you go, nerd!). With this spreadsheet, you should have one column that lists each page of your website and another column that lists the keyword phrase from your prioritized list that you want to feature on that page. This spreadsheet is essentially your game plan. You want to make sure that the copy (text) on each page of your website features your targeted keyword several times. There's no magic number. It should only be used where it naturally fits. 
The temptation here is to squeeze the phrase in 437 times. 15 years ago that would have worked. But Google is smarter than it used to be. This practice is called keyword stuffing, and doing it could actually hurt your entire band website's SEO.  The most important thing is that you develop copy for the page that matches what a user who searched using the targeted keyword would be looking for. 
4. Remember META Matters 
Ever heard of META data? I have. So I am actually probably a bigger nerd than you are. There are really two components of META data that matter: page title and page description. Go to Google. Search for anything. Every search result will have a blue line of text that is clickable. That's the page title. Then, there will be a line below it with the web address of the page. Below that, you will find a description of what's on that page. That is the page description. See below: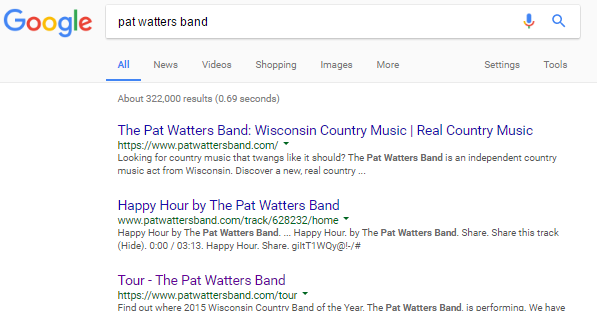 These two are both important, for different reasons. Your page title is the most important piece of text you write for each page. It should contain your targeted keywords. It also is the part users scan when they scroll through their search results. It's your digital first impression. The page description doesn't need to contain keywords, but should be written in a way that entices the user to choose to click your link. 
If somebody outside your band manages your website for you, they should be able to update your META data. If you manage your own website, hopefully your content management system allows you to control the META data for each page. If not, I encourage you to check out Bandzoogle. 
5. Specific is Terrific 
There are probably tons of keywords out there that you could rank for. But I would caution you to focus on the ones you should rank for. Know the goals of your website when you begin your keyword research. Think about people you want to attract, and focus your efforts on the keywords they would be using to search. Perhaps you could rank well for "Best blues band in Los Angeles" but that's not going to do you much good if you live in Cleveland. 

----------
This article just scratches the surface of the principles of SEO for musicians. If you want to learn more, there are a ton of resources out there. One of the best is Rand Fishkin's Whiteboard Friday video series. SEO is a specialized skill, and one that can truly set your band apart on the web. Developing your skills in this niche can help you make your band more visible on the web.